THE EAST VALLEY WATER FILTRATION & PLUMBING EXPERTS
DON'T PAY TO REPLACE IT. WE CAN REPAIR IT.

We repair and replace almost all makes and models of water heaters. Let us get your water heater back up and running, or help you upgrade to a more efficient heater.
Salt-free systems are a great alternative to the salt-style softeners. They are much more maintenance-free than a traditional softener, and they leave the minerals in your water.
A reverse osmosis water filtration system in your home allows you to say goodbye to cases of bottled water and hello to healthier, better-tasting water directly from your tap.
Camcor Plumbing offers expert services from highly trained plumbing technicians. We can address all of your plumbing needs in a timely fashion.

CAMCOR PLUMBING SETS THE STANDARD
Camcor has served homeowners in the Phoenix East Valley for over 10 years. We treat every customer as our neighbor, with honest answers and fair prices. We never engage in high-pressure sales or offer today-only prices. We want our customers to understand what they need and understand their options. We educate everyone we work with about the work we do and always offer to repair, rather than replace, your appliances whenever possible.
We know you live a busy life, and a plumbing emergency can be a big interruption. We always offer a two-hour window for when we will arrive at your home and contact you when our technician is on their way. At Camcor, we leave your property as we found it—you won't have to clean up after we visit.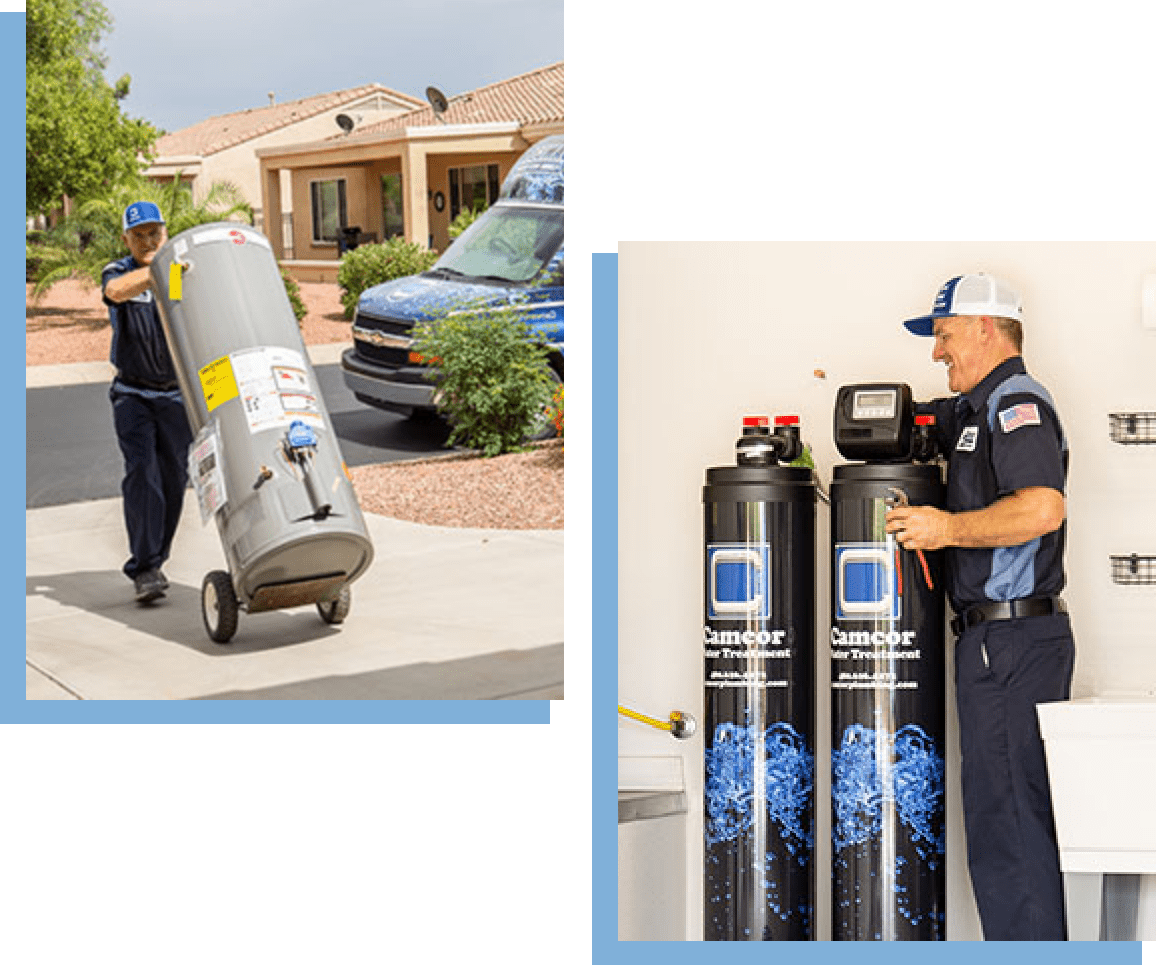 OUR PROFESSIONAL SERVICE GUARANTEE


Free removal of appliances we replace

Warranties on parts and labor

No hidden add-on fees for parts or services; what we quote is what you pay
WHAT OUR CUSTOMERS ARE SAYING
"Good job, done in a timely manner"
- Roy L.
"I had the filters replaced on my Reverse Osmosis System. Frank did an excellent job and provided me with answers to my many questions about my plumbing system maintenance. He also flushed my water heater at no cost to me. I highly recommend Camcor for all your plumbing needs."
- Michael C.
"Tyler was very competent, he wasn't pushy, but gave us options. Did a great job installing garbage disposal and faucet. I would recommend him to others."
- Donna D.
OUR LATEST TIPS AND TRICKS
Camcor Plumbing offers expert services from highly trained plumbing technicians. Whether you are upgrading your home water filtration system or are searching for emergency service, Camcor can address all of your plumbing needs in a timely fashion. Learn more from our experts for common problems you might face.
Imagine this winter, sitting in your Mesa home by the fire, looking out the window at the falling snowflakes while sipping your hot cocoa with marshmallows. Life is good. It is good, that is, until you hear the loud rush of water somewhere in your Arizona home. 
At Camcor Plumbing, we recommend an annual plumbing inspection for your Gilbert home. Many homeowners pass on the inspection not realizing its importance in your regular home maintenance.
WHAT ARE YOU WAITING FOR? CALL THE PLUMBING EXPERTS AT CAMCOR!