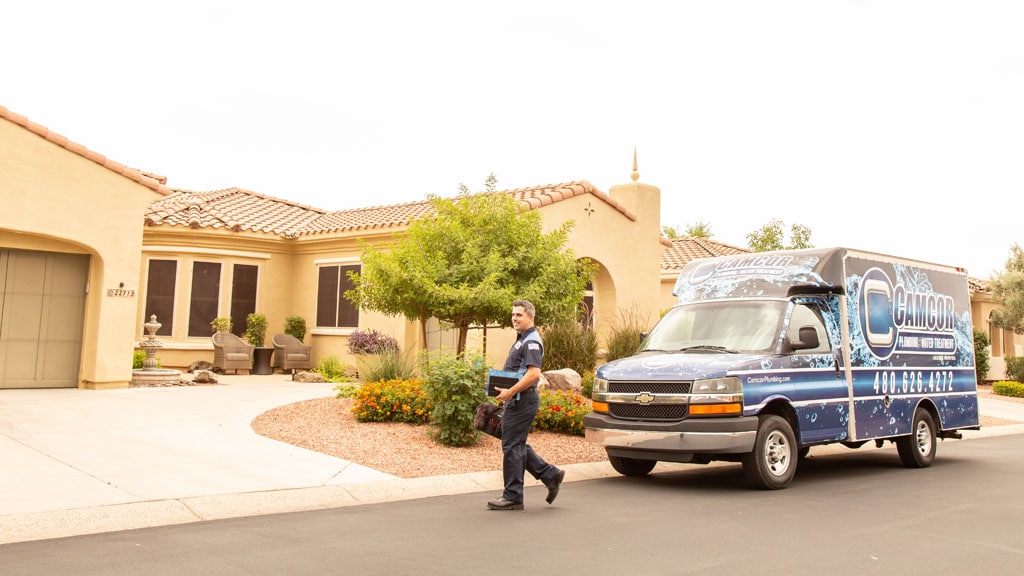 Camcor Plumbing Sets the Standard
Camcor has served homeowners in the Phoenix Valley for over 10 years. We treat every customer as our neighbor, with honest answers and fair prices. We never engage in high-pressure sales, or offer today-only prices. We want our customers to understand what they need and understand their options. We educate everyone we work with about the work we do and always offer to repair, rather than replace, your appliances whenever possible.
All of Our Services Come at a Fair Price
We believe in no-pressure sales. We never offer today-only prices. If you're not happy with our estimate, we walk away, no questions asked or charge to you. We guarantee these things to our customers:
Free estimates.
Free removal of appliances we replace.
No hidden add-on fees for parts or services—what we quote is what you pay.
Warranties on parts and labor.
If possible, we will fix your equipment rather than push you to buy something new. We never lie about what you need. At Camcor Plumbing, we try to offer you as many options as possible so you can make a well-informed choice.
We Respect Your Time
We know you live a busy life, and a plumbing emergency can be a big interruption. We always offer a two-hour window for when we will arrive at your home, and contact you when our technician is on their way. We leave your property as we found it. You won't have to clean up after we visit.
Everyone is happy to see a plumber when they need one. We want you to be even happier after we're gone.
Reasons to Choose Camcor Plumbing
We guarantee fast, honest service with well-trained professionals.
Read what our customers say about our service: Read our reviews.
We are licensed, bonded, and insured.
We have an A+ rating with the Better Business Bureau (BBB).
Honest, up-front pricing — we never "add on" or charge for estimates.
We want you to make informed decisions; we will educate you about reverse osmosis and why it may be the best system for you.
We will never offer "today-only" pricing and do not engage in high-pressure sales.
Please call us today for answers to your questions and to discuss your options and pricing.